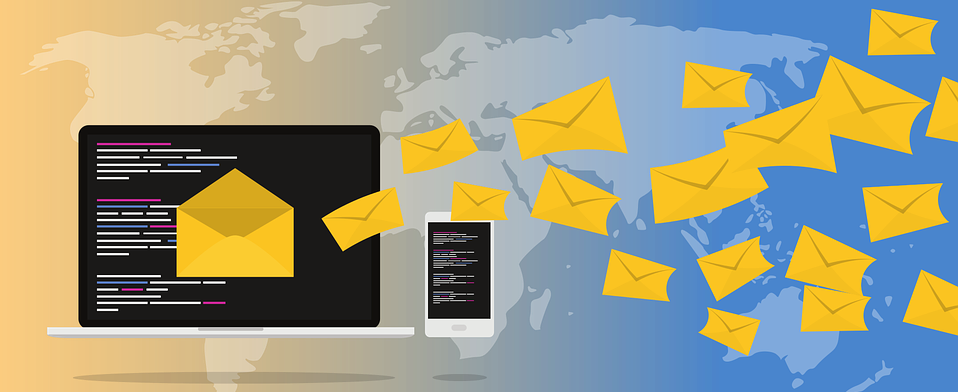 If you want to develop your business smoothly and meet the needs of the digital world, 'Brand Email' is one tool that will help your small business become professionally known.


 Why 'Brand Email'?
         Many of you may understand that an email ending with your own company/business name, for example, support@company.com. It may require investment and a headache to set up the system. But believe me, in fact, using the company's own email system is not as complicated or complicated as many people understand. Because this is a good reason Small businesses should pay more attention to the use of email addresses under their own company domain names.
1. Help make your business look more professional.
         Communication is the key to a successful business. And of course, the nature or details that you use to contact customers It will affect the image of professionalism as well. Initially in business dealings Most customers tend to have high expectations of the service provider. Therefore, a growing business should prioritize communication with its customers. And the first thing customers should come across when they want to contact your business. That is the name of the email that looks professional and reliable. It is well known that using email from a free service provider. (that are used all over the world) such as hotmail.com, gmail.com are often associated with problems with spelling the name of the email that is too complicated to send the wrong email. It can also make your business look less reliable with duplicate email addresses. Therefore, having an e-mail address under the corporate domain name (Brand E-mail) helps to make the communication between you and your customers look more reliable.
2. It has a simpler management system.
         Sometimes the use of free email in business can lead to inaccuracies or omissions in communications. Whether it is that we do not see the email of the customer sent in with other email news. causing a missed opportunity to expand the business Or communication within the organization that is unstable and clear until further chaos, which Brand Email can solve this problem with a better management system. such as dividing the name and address of the e-mail address by different departments in the organization for clearer working communication And of course, developing a good back-end system for your business. It will affect the home page system that leads to your business growth as well.
3. Increase business success with more direct messages to customers.
         After all, email is one of the online marketing tools. Used for communication that is one of the world's most important, which in order to run a business that looks reliable, it has to do something special than using free email hosting in general. and send the same message to your customers Until emails that are important to business are classified as spam mails. (Junkmail)You can go. And most businesses that choose to use corporate e-mail (Brand E-mail) tend to receive more responses from customers. They also have a higher click rate. For this reason, we can see that most small businesses that are growing well tend to have an email address that is named under their own domain name.
4. Increased security
         We can't deny that identity theft or email hacking exists!! And there are times when your business will come to a halt. because he was hacked by a bad person and created a commotion and caused a headache Most corporate email services come with a spam filter. This will save you time dealing with annoying things. It also helps to block spam emails that tend to send you repetitive messages because of security and privacy. It's the most important thing for an email service, so business owners don't need to worry anymore. that any sensitive information will be stolen that will affect your business And you don't have to waste time with the annoying problems that come from hackers or malware (Malware) as well.
5. Improve the brand image.
         Even if your business is still a small business. But it must not be forgotten that upgrading the image of the brand itself to look brighter than other competitors. It is equally important. Don't believe it, you have to believe when you have your own name and email address. To send emails to customers, then… Your image will be more credible and more affiliated than your competitors in the free email market. automatically that has it all
         These small details will reflect how much you care about your business. It can also present a trustworthy image for your partners or customers to remember. Over time, the credibility of your business will definitely help generate loyal customers for your brand.
6. Help turn your employees into brand ambassadors.
         It's not just a matter of safety. and an image that stands out from its competitors only But using your own corporate email address (Brand Email) can also improve your marketing techniques. By turning employees into brand ambassadors, our corporate email service allows you to add unlimited email addresses to your company. Also in each contact Employee emails will appear different images. that the brand wants to offer This will help customers to recognize your brand more clearly. As if there was a product representative to help promote it all the time.
7. There is a support team 24 hours a day.
         In addition to the marketing advantages that you will get after using a corporate email service. Business owners are also provided with a technical team to help resolve any issues. That may occur 24 hours a day, which service providers often have a way to contact to report different problems, such as online chat, phone calls, emails or other channels. Moreover, it also allows users to trust that important information. They are stored securely on servers with higher privacy. Using a corporate email service (Brand Email) is one of the jigsaws of business success. It is also the key to unlocking endless opportunities for business growth. 
English